Artist Statement
Sacred Geometry, Windows of Color, 
and Body, Mind & Soul & Angels
Several different ideas have developed over time and are now combining into the main body of my artwork. The idea for the "Sacred Geometry" series is loosely based on the concept of squaring the circle, it is the visual expression of the symbolic mysteries of life itself. The expression "squaring the circle" is used as a metaphor for doing something logically or intuitively impossible. This becomes the challenge in each of these complex overlapping of the geometric shapes and using visual depth to separate and delineate the shapes.
The overall concept for the "Windows of Color" series tries to combine realism with abstraction by looking at realistic subject matter, like landscape, the figure and still life through abstract windows. I also try to show the contrast of shape, color and texture by combining several geometric and organic shapes, with different color schemes and textures into one coherent design. I incorporate color contrast into the designs by using different concepts of basic color theory, as well as, the contrasting geometric shapes with organic shapes in many of the compositions. By using the "illusion of depth" in the two dimensional painting, I am trying to create different abstract windows. These concepts are achieved by manipulating the more concrete Elements of Art with the abstract concepts of the Principles of Design.
The Body, Mind & Soul series combines all these concepts and also explores symbolism and spiritualism by representing the human body, mind and our spiritual nature with different geometric designs from sacred geometry. The circular arc in these paintings represents the dividing line between the physical world and the spiritual nature of human beings. The complex backgrounds become an abstract organic or geometric element in the compositions. I like for the viewer to become involved in the complexity of the artwork, over a period of time, so that the viewer can contemplate the visual concepts and put their own meanings and life experiences into their interpretations of the paintings. All of these concepts and the elaborate backgrounds are used to portray the beauty of our physical existence with landscape as a proof of the creative force in this universe, by what ever name you choose to give it.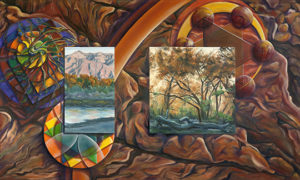 Fine Art Painting and Drawing
Original Oil Paintings, drawings and Archival Giclee Prints
Judged & Juried Group Art Exhibitions & Awards
15th Annual, The Figure in Contemporary Art, Hilliard Gallery, Kansas City Crossroads Arts District, Apr 1, 2022 – May 25, 2022
Portals, The Society for Art of Imagination, Online Juried Art Exhibition, January 23 – March 15, 2022
17TH Annual Juried Art Show, Images Art Gallery, Overland Park, Kansas, July 16 – Sept 1, 2021
Place of Peace, Art Show for Military Veterans, Johnson County Arts & Heritage Center, February – August 2021
The Society for Art of Imagination, Representational Fantastic, Kirkland Arts Center, Washington, March 16 – May 1, 2021
Jones Gallery, Monthly Art Show, Kansas City Crossroads Arts District, June 2020 to December 2020
10th Figurative Art Exhibition, Light Space & Time Online Art Gallery, April 2020 Special Merit Award, "Angel of Avalon"
Visionary Art Trip Exhibition, The Moscow House of Artist, St. Petersburg, Russia, June 18 – June 23, 2019
Visionary Art Trip Exhibition, The Moscow House of Artist, Moscow, Russia, Mar 26 – Mar 31, 2019
Contemporary Abstraction, Paper Birch Landing Gallery, North Kansas City, MO, January 2019
Shades of Red, Paper Birch Landing Gallery, North Kansas City, MO, December 2018
Visionary Art Award Exhibition, The Moscow House of Artist, Moscow, Russia, Mar 27 – April 1, 2018 3rd Place Painting; Fantastic Realism Category "The Anointing"
Visionary Alchemy Exhibition, New York City, 2017, An exhibition of imaginative art, presented by the Society for Art of Imagination, at One Art Space, 23 Warren Street, New York City, April 29 – May 13, 2017.
Montreal exhibition of the Canadian Society for Art of Imagination at the Écomusée du Fier Monde, Oct 2015
New Mexico Veteran's Art Show, Albuquerque NM, Nov. 2015 1st Place Award in Drawing; "Top of the Cumbres Pass", 1st Place Award in Oil Painting; "Chama Depot"
Veteran's Art Show, New Mexico State Land Office, Commissioner's Gallery, Santa Fe, NM, Nov 2014
New Mexico Veteran's Art Show, Albuquerque NM, Nov. 2014 1st Place Award in Drawing; "Crossing the Cumbres Pass"
New Mexico Veteran's Art Show, Albuquerque NM, Nov. 2013 Best of Show Award and 1st Place Award in Oil Painting, both awards; "Reading from the Book of Life", 1st Place Award in Drawing; "Chama No. 488"
MasterWorks of New Mexico, Albuquerque, NM, April 2013, "Body, Mind & Soul 4, The Alignment"
New Mexico Veteran's Art Show, Albuquerque NM, Nov. 2012
New Mexico Veteran's Art Show, Albuquerque NM, Nov. 20111st Place Award in Drawing; "Portrait of Jackie", Kirtland Gallery Award in Painting; "Angel Portal"
International Balloon Fiesta, Artist of New Mexico Art Show, Albuquerque NM, Oct. 2011
50th Annual New Mexico Arts & Crafts Fair, Albuquerque NM, June 2011
Town Art Show, Leawood, KS, June. 2011
Artfest, Dallas, TX, May. 2011
Rio Grande Arts and Crafts Festival, Spring Art Show, Albuquerque NM, Mar. 2011
Rio Grande Arts and Crafts Festival, Holiday Art Show, Albuquerque NM, Nov. 2010
New Mexico Veteran's Art Show, Albuquerque NM, Nov. 2010 2nd Place Award in Drawing; "Kelsey Profile", 2nd Place Award in Oil Painting; "Body, Mind & Soul 2"
International Balloon Fiesta, Artist of New Mexico Art Show, Albuquerque NM, Oct. 2010
New Mexico Arts & Crafts Fair, Albuquerque NM, June 2010
Corrales Artist Studio Tour, group exhibition at Studio 520, May 2006 -2009
MasterWorks of New Mexico, Albuquerque, NM, April 2007
Art Teachers Fine Art Show, University of New Mexico, Art Education Department, Albuquerque NM , March 2005
Bernalillo Arts Trail, Bernalillo NM, Oct. 2002 – 2005
Art is OK, Albuquerque NM, Sept. 2003
Rio Grande Art Association Members Show, Park Square, Albuquerque, NM – Oct. 2000
The San Ysidro Carnival of the Arts Corrales, NM – June 2000
Corrales Artist Studio Tour, Corrales NM, May 2000
The San Ysidro Carnival of the Arts Corrales NM, June 1999
Corrales Artist Studio Tour, Corrales NM, May 1999
6th Annual Bernalillo Arts Trail, Bernalillo NM, Dec. 1998
Tenth Annual Fine Arts Exhibition, Corrales NM, Oct. 1998
The San Ysidro Carnival of the Arts Corrales NM, June 1998
5th Annual Bernalillo Arts Trail, Bernalillo NM, Dec. 1998
Ninth Annual Fine Arts Exhibition, Corrales NM, Oct. 1997
Eighth Annual Fine Arts Exhibition, Corrales NM, Oct. 1996
MOSAICS – Missouri's Festival for the Arts, St. Charles MO, June 1994